Turf-Tec Tubular Turf Plugger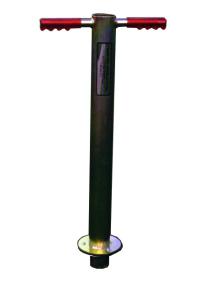 The Turf-Tec Tubular Turf Plugger removes grass plugs 2-3/8 inches wide by 2-1/2 inches deep. The hollow handle fills up with 20 plugs, and the plugs are simply ejected out the top by turning unit upside down.
The Turf-Tec Tubular Turf Plugger is excellent for filling in worn or damaged turfgrass areas. Simply plug the bad areas with the Turf-Tec Tubular Turf Plugger and the hollow handle fills up with plugs. Dump the damaged plugs out of the hollow handle and replace with healthy grass.
Since grass plugs fit perfectly back into holes, there is no evidence of repair, except for green grass!
Studies indicate plug size is ideal for quickest turfgrass establishment. Start your own turfgrass nursery with our tubular turf plugger for live grass plugs.
Cutter blade is case-hardened steel and is also replaceable.
| | |
| --- | --- |
| Golf Courses | Sports Fields |
| Golf Greens | Goal mouths |
| Golf tees | Areas of thin turf. |
| Ends of cart paths. | In front of pitchers mounds. |
| Worn golf green approaches. | Behind home plate. |
| Damaged areas | Bench areas. |
| Disease areas | Disease areas |
| Transplant Turf | Plant new grass types |
| Remove weeds | Remove weeds or unwanted overseed |
TTP1-M - Turf-Tec Tubular Turf Plugger
---
Additional Accessories: TTPB1-M Replacement Blade for Tubular Turf Plugger
Turf-Tec International Terms of Sale and Warranty LIMITED WARRANTY OF TURF-TEC INTERNATIONAL PRODUCTS Turfgrass Products Corporation - dba - Turf-Tec International ("Seller") warrants to the final purchaser, that all Turf-Tec International tools will be free from defects in material or workmanship for a period of one year from date of purchase. SELLER'S SOLE OBLIGATION AND YOUR EXCLUSIVE REMEDY under this Limited Warranty and, to the extent permitted by law, any warranty or condition implied by law, shall be the repair or replacement of parts, without charge, which are defective in material or workmanship and which have not been misused, carelessly handled, or improperly repaired by persons other than Turf-Tec International. To make a claim under this Limited Warranty, you must return the complete tool, transportation prepaid, to Turf-Tec International after contacting Turf-Tec International and receiving a return authorization number. Please include a dated proof of purchase with your tool. ANY IMPLIED WARRANTIES SHALL BE LIMITED IN DURATION TO ONE YEAR FROM DATE OF PURCHASE. IN NO EVENT SHALL SELLER BE LIABLE FOR ANY INCIDENTAL OR CONSEQUENTIAL DAMAGES (INCLUDING BUT NOT LIMITED TO LIABILITY FOR LOSS OF PROFITS) ARISING FROM THE SALE OR USE OF THIS PRODUCT. THIS LIMITED WARRANTY GIVES YOU SPECIFIC LEGAL RIGHTS, AND YOU MAY ALSO HAVE OTHER RIGHTS WHICH VARY FROM STATE TO STATE IN THE U.S., PROVINCE TO PROVINCE IN CANADA AND FROM COUNTRY TO COUNTRY. Return Policy: Turf-Tec International has been in business since 1976 and we pride ourselves in producing quality tools that last for years and years. We offer a 100% satisfaction guarantee on all of our products and will gladly accept any return for a credit to be used at Turf-Tec International for future orders or a check refund may be issued. There is a 30% re-stocking fee for all returned merchandise whether an in house credit or a refund is requested and shipping charges will not be refunded. All returned merchandise must be new and in re-salable condition. Turf-Tec will only receive returns if a return authorization number is first obtained from Turf-Tec International. Again, all returned merchandise must be new and in re-salable condition and Turf-Tec does not pay return shipping fee's.