Turf-Tec Wireless Rain Gauge 4/100th inch with 9-day Memory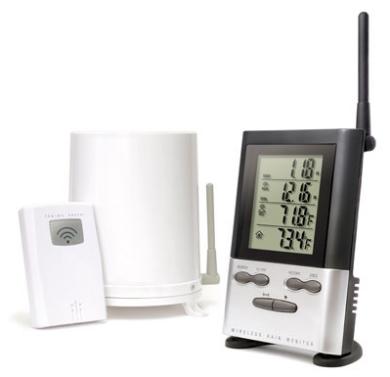 Our rain gauge just went wireless!
The Turf-Tec Wireless Rain Gauge is wireless and includes a 9-day memory function plus an indoor/outdoor temperature.
Now you can monitor rainfall from your office or maintenance building without the need to run wires. Simply place the self emptying rainfall collector within 300 feet of the receiving unit and you are ready to go.
Do not rely on airport weather collection stations to determine how much rainfall has fallen on your property.
Use your own data and you will know exactly how much rainfall has occurred on your managed area. The unit is also 100% frost proof.
The Turf-Tec Wireless Rain collector is produced of durable and weatherproof plastic, resisting extreme frost and heat temperatures as well as the sun's UV radiation. 100% frost proof.
Uses for the Turf-Tec Wireless Rain Gauge

Golf Courses

Sports Fields

Home Lawns

Municipalities

Parks and playgrounds

Estates and gardens

Office complexes

Agriculture and farming

Aquaculture

Determine when to irrigate based upon rainfall

Determine when to fertilize based upon rainfall

Specifications

Automatic self-emptying rain cup

Measures rainfall and then automatically dumps collected rainfall

Wireless transmission range up to 300-feet for rain gauge and 100 feet for thermometer

Displays daily, 9 day historical, and total rainfall records

Rainfall amounts are shown as inches or millimeters

Displays indoor and outdoor temperature

High daily rainfall alarm

Records rainfall for every 4/100th of an inch of rain (every 1 mm)

Batteries: 2-AA (main) / 2-AAA (sensor)

Dimensions: 3.5L x 1D x 5.6H (in.)
ROM3-W - Rain Gauge with Outdoor Thermometer and 9-day Memory
Turf-Tec International Terms of Sale and Warranty LIMITED WARRANTY OF TURF-TEC INTERNATIONAL PRODUCTS Turfgrass Products Corporation - dba - Turf-Tec International ("Seller") warrants to the final purchaser, that all Turf-Tec International tools will be free from defects in material or workmanship for a period of one year from date of purchase. SELLER'S SOLE OBLIGATION AND YOUR EXCLUSIVE REMEDY under this Limited Warranty and, to the extent permitted by law, any warranty or condition implied by law, shall be the repair or replacement of parts, without charge, which are defective in material or workmanship and which have not been misused, carelessly handled, or improperly repaired by persons other than Turf-Tec International. To make a claim under this Limited Warranty, you must return the complete tool, transportation prepaid, to Turf-Tec International after contacting Turf-Tec International and receiving a return authorization number. Please include a dated proof of purchase with your tool. ANY IMPLIED WARRANTIES SHALL BE LIMITED IN DURATION TO ONE YEAR FROM DATE OF PURCHASE. IN NO EVENT SHALL SELLER BE LIABLE FOR ANY INCIDENTAL OR CONSEQUENTIAL DAMAGES (INCLUDING BUT NOT LIMITED TO LIABILITY FOR LOSS OF PROFITS) ARISING FROM THE SALE OR USE OF THIS PRODUCT. THIS LIMITED WARRANTY GIVES YOU SPECIFIC LEGAL RIGHTS, AND YOU MAY ALSO HAVE OTHER RIGHTS WHICH VARY FROM STATE TO STATE IN THE U.S., PROVINCE TO PROVINCE IN CANADA AND FROM COUNTRY TO COUNTRY. Return Policy: Turf-Tec International has been in business since 1976 and we pride ourselves in producing quality tools that last for years and years. We offer a 100% satisfaction guarantee on all of our products and will gladly accept any return for a credit to be used at Turf-Tec International for future orders or a check refund may be issued. There is a 30% re-stocking fee for all returned merchandise whether an in house credit or a refund is requested and shipping charges will not be refunded. All returned merchandise must be new and in re-salable condition. Turf-Tec will only receive returns if a return authorization number is first obtained from Turf-Tec International. Again, all returned merchandise must be new and in re-salable condition and Turf-Tec does not pay return shipping fee's.