POGO II - Soil Moisture Sensor (VWC) with WiFi (with EC and temperature) Non-integrated GPS Model - POGO2-W
The new Stevens Pogo II Moisture Sensor allows you to gain the most insight into your turf and soil conditions with minimal effort. The POGO uses the only research grade commercially available sensor available on the market…the Stevens Hydra Probe II sensor measuring moisture, salinity and temperature without calibration needed…ever. It is the only sensor moisture sensor the USDA (United States Department of Agriculture) exclusively uses.

You simply insert the Pogo II VWC Moisture Sensor into the soil and press read on your cell phone or tablet and the VWC Moisture percentage, Soil EC and Soil Temperature in F/C are displayed instantly. Readings can be read and discarded or saved into a downloadable database. The Pogo II - Soil Moisture Sensor comes with WiFi, re-chargeable battery, charger and hard case.

The Pogo II VWC Moisture Sensor is a portable wireless turf and soil insight tool that puts the power of the long proven, highly scientific Stevens Hydra Probe in the palm of your hand using your Android or Apple device for easy, accurate, and reliable measurements. It's technology is more science based as compared to older and less reliable VWC technology.

Using the Pogo II VWC Moisture Sensor built-in Wi-Fi and free App downloaded from iTunes or Google Play Store to your iPhone, iTouch, iPad, or Android enables the device to be a data acquisition system that collects, displays, and logs turf conditions measured by the POGO. Search for "Stevens POGO" to find the App for your device. As new features are developed for the App, updates will be made easily accessible for immediate use.

Note - The non integrated GPS Model still received GPS signals, it just receives them from the device you have it connected to through Wi-Fi. This unit is as accurate as the GPS in the device that the unit is connected to.

Each reading will display:

Soil Moisture VWC % (Volumetric Water Content)

EC (dS/m) (Salinity)

Soil Temperature (C and F)

Date / time of last logged sample

Data stored includes:

GPS Location History of logged readings

Zone / green name

Averages for Zone / green

Location name

User name

User email address

Warnings outside user threshold

Memo entries Number of samples per Zone / green History of logged samples ... and more!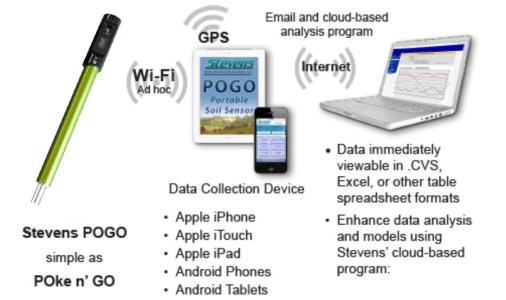 BENEFITS

• Instantly measure soil moisture, electroconductivity (salinity), temperature and more • Optimize water usage, fertilization, and overall turf analysis • Easy to operate - simply insert probe into turf / soil, click sample and click save to log sample • Reliable: over 10 years of field and research-proven science • Sensor depended on by the USDA, NOAA, leading irrigation companies, and many universities • Performs well across all turf and soil types • No calibration needed

APPLICATION USES

• Trend desired conditions and know what to do to keep them • Conduct irrigation, nutritional, and temperature uniformity assessments quickly and easily • Develop growing degree models for stresses and interests most important to you and your operation • Know if a stress spot is moisture, salinity, or temperature related • Understand the combined effects of the most important influencing factors in turf management • Know the effects of your nutritional applications and adjust their timing more effectively • In only minutes a day, log and view the pulse of your entire property from a moisture, salinity, and temperature perspective • Easily compare present reading with average from zone (Green, FW, Tee, Custom, etc.)

WEB SOLUTIONS

While the POGO is powerful in itself, Stevens POGO Turf Pro cloud-based analytical and mapping system allows the user to link the POGO data to this cloud-based program for further analysis specific to his or her operation.

• Map GPS positions of POGO readings • Log golf pin / cup positions in everyday setup while trending these over time and avoiding stress build up • Log and view sprinkler and irrigation distribution • Customize growing degree models for appropriate targets such as turf stresses, pest development likelihood, and plant protection application targeting • Optimize cultural practice timing • Many other applications for display of what current and historical course conditions, and what is happening over time • Easily access the cloud-based system from any internet connection
FEATURES • Apple and Android app interface via Wi-Fi - no independent data collection device required • Rechargeable AA internal batteries with battery voltage indicator • On-the-fly analysis with the app • Data saved in .CSV format • Email data easily, open in spreadsheet for immediate analysis • Data connectivity to cloud-based enhanced turf analysis program • GPS logging via smart phone • Measures both components of complex dielectric permittivity for advanced analysis • Username controlled • Memo entry inputs available for each sample • Performs well in all turf / soil types • Durable, non-disruptive sensor tines to minimize probing holes in turf • Log pin locations and trends • Industry-leading two year warranty on all non-sensor components • Industry-leading five year sensor warranty
---
POGO2-W - POGO VWC Soil Moisture Sensor Bluetooth (with EC and Temp) - (Non integrated GPS Model - Sale)
Note - The non integrated GPS Model still received GPS signals, it just receives them from the device you have it connected to through Wi-Fi. This unit is as accurate as the GPS in the device that the unit is connected to.
Turf-Tec International Terms of Sale and Warranty LIMITED WARRANTY OF TURF-TEC INTERNATIONAL PRODUCTS Turfgrass Products Corporation - dba - Turf-Tec International ("Seller") warrants to the final purchaser, that all Turf-Tec International tools will be free from defects in material or workmanship for a period of one year from date of purchase. SELLER'S SOLE OBLIGATION AND YOUR EXCLUSIVE REMEDY under this Limited Warranty and, to the extent permitted by law, any warranty or condition implied by law, shall be the repair or replacement of parts, without charge, which are defective in material or workmanship and which have not been misused, carelessly handled, or improperly repaired by persons other than Turf-Tec International. To make a claim under this Limited Warranty, you must return the complete tool, transportation prepaid, to Turf-Tec International after contacting Turf-Tec International and receiving a return authorization number. Please include a dated proof of purchase with your tool. ANY IMPLIED WARRANTIES SHALL BE LIMITED IN DURATION TO ONE YEAR FROM DATE OF PURCHASE. IN NO EVENT SHALL SELLER BE LIABLE FOR ANY INCIDENTAL OR CONSEQUENTIAL DAMAGES (INCLUDING BUT NOT LIMITED TO LIABILITY FOR LOSS OF PROFITS) ARISING FROM THE SALE OR USE OF THIS PRODUCT. THIS LIMITED WARRANTY GIVES YOU SPECIFIC LEGAL RIGHTS, AND YOU MAY ALSO HAVE OTHER RIGHTS WHICH VARY FROM STATE TO STATE IN THE U.S., PROVINCE TO PROVINCE IN CANADA AND FROM COUNTRY TO COUNTRY. Return Policy: Turf-Tec International has been in business since 1976 and we pride ourselves in producing quality tools that last for years and years. We offer a 100% satisfaction guarantee on all of our products and will gladly accept any return for a credit to be used at Turf-Tec International for future orders or a check refund may be issued. There is a 30% re-stocking fee for all returned merchandise whether an in house credit or a refund is requested and shipping charges will not be refunded. All returned merchandise must be new and in re-salable condition. Turf-Tec will only receive returns if a return authorization number is first obtained from Turf-Tec International. Again, all returned merchandise must be new and in re-salable condition and Turf-Tec does not pay return shipping fee's