Turf-Tec Precipitation and Uniformity Gauges
| | |
| --- | --- |
| | NEW Design!!! |
| Precipitation and Uniformity Gauges can be set up in a head to head layout or in a grid pattern. Sold in a set of 16 large gauges and 4 small gauges for a total of 20 gauges and 20 stainless steel support spikes. | Precipitation and Uniformity Gauges have a stainless steel support spike and are calibrated in 10th of an inch and millimeters. Smaller gauges are positioned next to sprinkler heads to catch the second or third lower stream from the nozzles. |
For checking the precipitation and uniformity of the water being delivered by each irrigation head.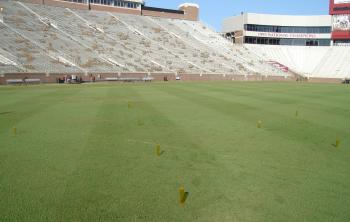 Turf-Tec International is proud to introduce its re-designed Precipitation / Uniformity Gauges. These gauges are designed to be set up in a head to head or grid pattern to determine how much water is applied from an irrigation system and to also show the water coverage uniformity. They are also used in performing water audits are also excellent for correlating sprinkler run times with actual soil infiltration readings with companion tools like the Turf-Tec Infiltrometer.
The set of 20 calibrated gauges are calibrated in tenth of an inch and millimeters for ease of reading the amount of water in each gauge. The measuring cups are made from strong plastic and the mounting brackets are made from stainless steel for ease of use and long life. The set consists of 16 large gauges and 4 small gauges. The small gauges are positioned closest to the sprinklers to insure water collection from second and third stream nozzle designs.
Calibrated in inches and millimeters, there is no conversion from milliliters or volume to inches or millimeters per hour. Just install the gauges, run the cycle and look at the gauges.
These gauges were designed to determine two things:
1. They will indicate how much water each sprinkler head is applying in a given period of time.
2. They will reveal the uniformity of the water being delivered by each sprinkler.
Use these gauges to adjust each sprinkler nozzle for uniform coverage.
Use for water audits - Stop guessing - Get the facts - Save water - Save electricity
Each set consists of 20 calibrated precipitation gauges that are spread out in a uniform pattern between sprinkler heads. The set consists of 16 large gauges and 4 smaller gauges as well as 20 stainless steel stands for the gauges. They are calibrated in inches and millimeters.
---
PUGS2-W - Turf-Tec Precipitation and Uniformity Gauges
Turf-Tec International Terms of Sale and Warranty LIMITED WARRANTY OF TURF-TEC INTERNATIONAL PRODUCTS Turfgrass Products Corporation - dba - Turf-Tec International ("Seller") warrants to the final purchaser, that all Turf-Tec International tools will be free from defects in material or workmanship for a period of one year from date of purchase. SELLER'S SOLE OBLIGATION AND YOUR EXCLUSIVE REMEDY under this Limited Warranty and, to the extent permitted by law, any warranty or condition implied by law, shall be the repair or replacement of parts, without charge, which are defective in material or workmanship and which have not been misused, carelessly handled, or improperly repaired by persons other than Turf-Tec International. To make a claim under this Limited Warranty, you must return the complete tool, transportation prepaid, to Turf-Tec International after contacting Turf-Tec International and receiving a return authorization number. Please include a dated proof of purchase with your tool. ANY IMPLIED WARRANTIES SHALL BE LIMITED IN DURATION TO ONE YEAR FROM DATE OF PURCHASE. IN NO EVENT SHALL SELLER BE LIABLE FOR ANY INCIDENTAL OR CONSEQUENTIAL DAMAGES (INCLUDING BUT NOT LIMITED TO LIABILITY FOR LOSS OF PROFITS) ARISING FROM THE SALE OR USE OF THIS PRODUCT. THIS LIMITED WARRANTY GIVES YOU SPECIFIC LEGAL RIGHTS, AND YOU MAY ALSO HAVE OTHER RIGHTS WHICH VARY FROM STATE TO STATE IN THE U.S., PROVINCE TO PROVINCE IN CANADA AND FROM COUNTRY TO COUNTRY. Return Policy: Turf-Tec International has been in business since 1976 and we pride ourselves in producing quality tools that last for years and years. We offer a 100% satisfaction guarantee on all of our products and will gladly accept any return for a credit to be used at Turf-Tec International for future orders or a check refund may be issued. There is a 30% re-stocking fee for all returned merchandise whether an in house credit or a refund is requested and shipping charges will not be refunded. All returned merchandise must be new and in re-salable condition. Turf-Tec will only receive returns if a return authorization number is first obtained from Turf-Tec International. Again, all returned merchandise must be new and in re-salable condition and Turf-Tec does not pay return shipping fee's.