Turf-Tec Soil pH Meter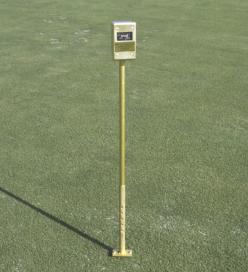 Test soil pH in the mat, thatch and above and below the root zone. pH can be checked, 0" to 4" inch level right on the turfgrass area. This information can tell whether pH problems exist in different layers of the profile which will not only effect nutrient uptake but improper pH can also inhibit root growth.
Simply insert probe to desired depth, allow to stand for 60 seconds, and read pH scale display window.
Specially designed probe depth control and stand.
The pH meter is a great instrument as it is a quick way to get pH readings in the soil at the 1", 2", 3" and 4" depth to see the variation of the soil layers. That means that pH can be checked in the thatch layer, in the root zone and directly below the root zone for a complete pH reading of the entire root zone profile.
For all turfgrass areas.
Now you can test soil reaction at different levels in the soil profile.
Accurate to +/- 1.0 pH Point
Check Soil pH on:

Golf greens, fairways, golf tees.
Seed beds.
Sports fields.
New construction.
Lawns.
Playgrounds.
Locate layers.
Check fertigation performance.

Specifications:

Easy to use.
Accurate to +/- 1.0 pH Point
Read out 3.5 to 9.0.
Readings within one minute.
Durable and reliable.
Adjustable foot from 1-4 inches deep.
Overall height 48 inches tall.
Weather proof non-corrosive metal.
The Turf-Tec pH Meter is ideal for taking many readings quickly in the field. If noticeable changes in pH readings occur from one test location to another test location in soil pH, then samples from those suspect areas can be taken and analyzed further though mixing a slurry or taking the samples to an accredited laboratory for analysis.
Completely self contained, no chemicals, batteries, or attachments needed.

pH meter, wires and probe are protected inside water-resistant instrument.

For testing soil reaction. Monitoring pH is the key to successful turfgrass management.

Determine when soil is acid or alkaline and at what level in the soil profile these changes occur.

Accurate to +/- 1.0 pH Point

Close up of Turf-Tec pH Meter Face.

Top of Turf-Tec pH Meter
PH1-N Turf-Tec pH Meter
---
Additional Accessories:
| | |
| --- | --- |
| | TTMP90 - pH Meter Replacement Probe and wire. |
| | TTMP26 - pH Meter Replacement 4 inch Steel Spikes (Set 2) |
Turf-Tec International Terms of Sale and Warranty LIMITED WARRANTY OF TURF-TEC INTERNATIONAL PRODUCTS Turfgrass Products Corporation - dba - Turf-Tec International ("Seller") warrants to the final purchaser, that all Turf-Tec International tools will be free from defects in material or workmanship for a period of one year from date of purchase. SELLER'S SOLE OBLIGATION AND YOUR EXCLUSIVE REMEDY under this Limited Warranty and, to the extent permitted by law, any warranty or condition implied by law, shall be the repair or replacement of parts, without charge, which are defective in material or workmanship and which have not been misused, carelessly handled, or improperly repaired by persons other than Turf-Tec International. To make a claim under this Limited Warranty, you must return the complete tool, transportation prepaid, to Turf-Tec International after contacting Turf-Tec International and receiving a return authorization number. Please include a dated proof of purchase with your tool. ANY IMPLIED WARRANTIES SHALL BE LIMITED IN DURATION TO ONE YEAR FROM DATE OF PURCHASE. IN NO EVENT SHALL SELLER BE LIABLE FOR ANY INCIDENTAL OR CONSEQUENTIAL DAMAGES (INCLUDING BUT NOT LIMITED TO LIABILITY FOR LOSS OF PROFITS) ARISING FROM THE SALE OR USE OF THIS PRODUCT. THIS LIMITED WARRANTY GIVES YOU SPECIFIC LEGAL RIGHTS, AND YOU MAY ALSO HAVE OTHER RIGHTS WHICH VARY FROM STATE TO STATE IN THE U.S., PROVINCE TO PROVINCE IN CANADA AND FROM COUNTRY TO COUNTRY. Return Policy: Turf-Tec International has been in business since 1976 and we pride ourselves in producing quality tools that last for years and years. We offer a 100% satisfaction guarantee on all of our products and will gladly accept any return for a credit to be used at Turf-Tec International for future orders or a check refund may be issued. There is a 30% re-stocking fee for all returned merchandise whether an in house credit or a refund is requested and shipping charges will not be refunded. All returned merchandise must be new and in re-salable condition. Turf-Tec will only receive returns if a return authorization number is first obtained from Turf-Tec International. Again, all returned merchandise must be new and in re-salable condition and Turf-Tec does not pay return shipping fee's.