Field Scout Digital Moisture Sensor (TDR 300)

New! Now included in the Professional Golfers Association (PGA) Tours "2010-2014 Course Conditioning Guidelines" Also used by The National Football League (NFL) and the United States Golf Association (USGA) New!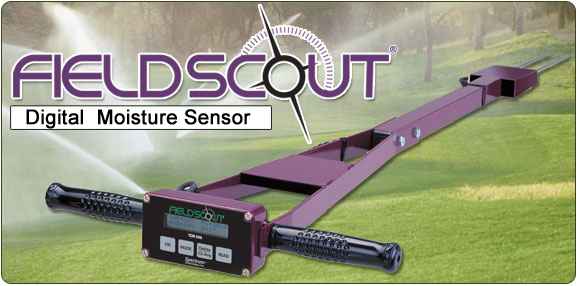 The Field Scout Digital Moisture Sensor allows you to monitor and record soil moisture quickly and accurately with TDR technology (time-domain measurement technology). New Bluetooth attachment available!! See Accessories.
When precision irrigation decisions count, the Field Scout Digital Moisture Sensor offers turfgrass managers a tool to eliminate the guesswork. Based on proven time-domain measurement technology, this portable unit accurately measure soil moisture across the full range of soil moisture conditions. Unit comes standard with a set of 7.5cm (3 in) probe rods (You can substitute any size).
The Field Scout Digital Moisture Sensor has two volumetric water content modes; one for standard soils and one for higher clay soils. In volumetric water content (VWC) mode, the meter converts a measured electrical signal into percent soil moisture content using an equation valid over a wide range of mineral soils. In irrigation mode, the meter displays a relative water content (RWC) on a scale of 0 to 100 corresponding to a user-defined upper and lower soil moisture reference level. Water deficit, the amount of water needed to bring the soil moisture content up to the upper reference level, is also calculated and displayed. The reference levels are easily programmed into the meter with the accompanying software. Create up to 2 management sites based on your soil types and turfgrass variety needs. Use the raw reading mode (measurement period in microseconds) to do soil-specific calibrations. An internal data logger and RS-232 port allow for use with a DGPS for geo-referenced soil moisture measurements. Unit includes software and PC cable. Mapping software requires GPS; not included.
NEW FEATURE ADDED IN 2012 - The TDR family of meters now includes the option to perform a calibration on an individual meter. The calibration is done in 2 media; air and distilled water. This new feature took effect with firmware version 6.5 and is included with units shipped after January 1, 2012. Meters with firmware versions earlier than v. 6.5 can be upgraded by purchasing and installing an updated microcontroller chip (Item #MSFS-Chip-Upgrade).
Here is a link to a great article on soil moisture published by the United States Golf Association Green Section
http://gsr.lib.msu.edu/article/gatlin-giant-9-23-11.pdf
Specifications

The Field Scout Digital Moisture Sensor allows you to find dry spots before they become visually apparent or hydrophobic

Measurement Units - Percent volumetric water content

Resolution 0.1%

Accuracy ±3.0% volumetric water content with electrical conductivity < 2 dS m –1

Range 0% to saturation (Saturation is typically around 50% volumetric water.)

Power 4 AAA alkaline batteries, Approximately 12 month life

Logger Capacity 2700 readings without GPS, 1250 readings with GPS/DGPS

Display 16 character, 2 line LCD

Weight 3 lbs. (1.4 kg)

Probe Head Dimensions - 3.1" x 3" x 1" (7.8cm x 7.5cm x 2.5cm)

Rod Dimensions Lengths available: 1.5 inch (3.8cm) / 3 inch (7.5cm) / 4.7 inch (12cm) / 8.0 inch ( 20 cm) Diameter: 0.2" (0.5cm)

(Unit comes with one set included in price)

Rod Spacing: 1.3" (3.3cm)

The internal data logger and RS-232 port are compatible with GPS/DGPS.
The data logger's LCD screen will display the data in one of three modes 1. Volumetric water content - in Standard or High Clay mode 2. Relative water content - up to 2 RWC modes can be established 3. Measurement period - in microseconds
Accessories available:

MSFS1-USB-Cable - Digital Moisture Sensor Serial to USB Cable. Digital Moisture sensor comes with a Serial cable to connect to your computer to download the data from the last 100 readings. If your computers Serial port is occupied or if your computer does not have a serial port (shown below - click to expand), you will need this cable to plug the unit into a USB port. (Shown Below- click to expand)

Digital Moisture Sensor Replaceable Probe Rod Lengths:

MSFSP01 - Replacement Spikes 1.5 inch (3.8cm) - (set of 2) $56.00 MSFSP03 - Replacement Spikes 3 inch (7.5cm) - (set of 2) $56.00 MSFSP04 - Replacement Spikes 4.8 inch (12 cm) - (set of 2) $56.00 MSFSP05 - Replacement Spikes 8.0 inch ( 20 cm) - (set of 2) $56.00

MSFS1-Case - Digital Moisture Sensor Soft Carrying Case

Case is designed to protect Digital Moisture Sensor while unit remains fully assembled. (Note spikes protrude through bottom of carrying case if they are not removed in transit.

MSFS1-GPS-Bracket - GPS Unit Mounting Bracket - GPS not included

MSFSBT-W - Bluetooth Attachment for MSFS1 Digital Moisture Sensor

FieldScout Mobile App …… FREE Basic

MSFSSC-W SpecConnect FieldScout Pro Subscription (1-yr)

MSFSSC-ADD-W - SpecConnect FieldScout Pro - Additional FieldScout Device (1-yr)

MSFS1-Garmin-GPS-Kit - Included in kit : Kit for GPS - Includes: Garmin brand Garmin 72H Waterproof Handheld GPS with High-Sensitivity, Garmin to MSFS Cable, MSFS1-Cable to GPS and MSFS1-GPS-Bracket - GPS Unit Mounting Bracket
MSFS1-W Field Scout Digital Moisture Sensor
Turf-Tec International Terms of Sale and Warranty LIMITED WARRANTY OF TURF-TEC INTERNATIONAL PRODUCTS Turfgrass Products Corporation - dba - Turf-Tec International ("Seller") warrants to the final purchaser, that all Turf-Tec International tools will be free from defects in material or workmanship for a period of one year from date of purchase. SELLER'S SOLE OBLIGATION AND YOUR EXCLUSIVE REMEDY under this Limited Warranty and, to the extent permitted by law, any warranty or condition implied by law, shall be the repair or replacement of parts, without charge, which are defective in material or workmanship and which have not been misused, carelessly handled, or improperly repaired by persons other than Turf-Tec International. To make a claim under this Limited Warranty, you must return the complete tool, transportation prepaid, to Turf-Tec International after contacting Turf-Tec International and receiving a return authorization number. Please include a dated proof of purchase with your tool. ANY IMPLIED WARRANTIES SHALL BE LIMITED IN DURATION TO ONE YEAR FROM DATE OF PURCHASE. IN NO EVENT SHALL SELLER BE LIABLE FOR ANY INCIDENTAL OR CONSEQUENTIAL DAMAGES (INCLUDING BUT NOT LIMITED TO LIABILITY FOR LOSS OF PROFITS) ARISING FROM THE SALE OR USE OF THIS PRODUCT. THIS LIMITED WARRANTY GIVES YOU SPECIFIC LEGAL RIGHTS, AND YOU MAY ALSO HAVE OTHER RIGHTS WHICH VARY FROM STATE TO STATE IN THE U.S., PROVINCE TO PROVINCE IN CANADA AND FROM COUNTRY TO COUNTRY. Return Policy: Turf-Tec International has been in business since 1976 and we pride ourselves in producing quality tools that last for years and years. We offer a 100% satisfaction guarantee on all of our products and will gladly accept any return for a credit to be used at Turf-Tec International for future orders or a check refund may be issued. There is a 30% re-stocking fee for all returned merchandise whether an in house credit or a refund is requested and shipping charges will not be refunded. All returned merchandise must be new and in re-salable condition. Turf-Tec will only receive returns if a return authorization number is first obtained from Turf-Tec International. Again, all returned merchandise must be new and in re-salable condition and Turf-Tec does not pay return shipping fee's.