EC Pen by Oakton

This waterproof microprocessor EC Testers offer push-button calibration and ±1% accuracy in a rugged waterproof housing. Never worry about losing your tester in a pond or tank; these testers even float! It can be used in liquid or the probe can be inserted directly into a moist soil sample after the sample has been extracted from the ground.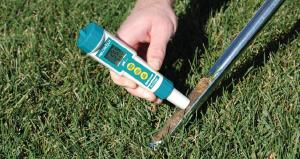 Waterproof Microprocessor EC Testers by Oakton Feature push-button calibration and high ±1% full scale accuracy! Waterproof, dustproof housing that floats is certifiable to IP67 standards Replaceable sensor lets you reuse same meter body, saving you money Hold function, Auto-Off Automatic Temperature Compensation
Valox® housing and stainless steel electrodes offer good chemical compatibility. Replaceable sensors let you reuse meter body without losing waterproof protection.
Specifications:

Measures TDS or Conductivity
Automatic Temperature Compensation
TDSTestr High: 0 to 10.00 ppt
Electrode is Replaceable
ECTestr High:0 to 19.90 mS
Operating Temperature 0 to 50°C (32 to 122°F)
TDSTestr High: 0.10 ppt
Power Four 1.5 V batteries
ECTestr High:0.10 mS
Battery life 140 hours continous use
Accuracy ±1% full-scale
Dimensions 6.5" x 1.5" dia (16.5 cm x 3.8 cm dia)
Calibration One point push button
Shipping weight 4.5 oz (125 g)
Waterproof/Dustproof (IP67) Yes
ECPEN-OAK-N - EC Pen by Oakton
Additional Accessories:
ECPEN-OAK-05 EC Pen by Oakton Replacement Probe.

Also Available:

ECM-CAL2-N EC Meter Conductivity Standard 1.41mS/cm (Refill) 250 ml Bottle
Turf-Tec International Terms of Sale and Warranty LIMITED WARRANTY OF TURF-TEC INTERNATIONAL PRODUCTS Turfgrass Products Corporation - dba - Turf-Tec International ("Seller") warrants to the final purchaser, that all Turf-Tec International tools will be free from defects in material or workmanship for a period of one year from date of purchase. SELLER'S SOLE OBLIGATION AND YOUR EXCLUSIVE REMEDY under this Limited Warranty and, to the extent permitted by law, any warranty or condition implied by law, shall be the repair or replacement of parts, without charge, which are defective in material or workmanship and which have not been misused, carelessly handled, or improperly repaired by persons other than Turf-Tec International. To make a claim under this Limited Warranty, you must return the complete tool, transportation prepaid, to Turf-Tec International after contacting Turf-Tec International and receiving a return authorization number. Please include a dated proof of purchase with your tool. ANY IMPLIED WARRANTIES SHALL BE LIMITED IN DURATION TO ONE YEAR FROM DATE OF PURCHASE. IN NO EVENT SHALL SELLER BE LIABLE FOR ANY INCIDENTAL OR CONSEQUENTIAL DAMAGES (INCLUDING BUT NOT LIMITED TO LIABILITY FOR LOSS OF PROFITS) ARISING FROM THE SALE OR USE OF THIS PRODUCT. THIS LIMITED WARRANTY GIVES YOU SPECIFIC LEGAL RIGHTS, AND YOU MAY ALSO HAVE OTHER RIGHTS WHICH VARY FROM STATE TO STATE IN THE U.S., PROVINCE TO PROVINCE IN CANADA AND FROM COUNTRY TO COUNTRY. Return Policy: Turf-Tec International has been in business since 1976 and we pride ourselves in producing quality tools that last for years and years. We offer a 100% satisfaction guarantee on all of our products and will gladly accept any return for a credit to be used at Turf-Tec International for future orders or a check refund may be issued. There is a 30% re-stocking fee for all returned merchandise whether an in house credit or a refund is requested and shipping charges will not be refunded. All returned merchandise must be new and in re-salable condition. Turf-Tec will only receive returns if a return authorization number is first obtained from Turf-Tec International. Again, all returned merchandise must be new and in re-salable condition and Turf-Tec does not pay return shipping fee's.